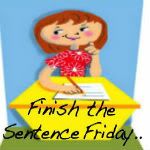 Do you remember the rules?
I thought I was so cool when I...
...was about 16. Not so much now. When I was in high school, I was part of the "in crowd" until I was over being in high school and had moved onto college (which was sort of hard, because I was still a Junior).

I feel like I USED to be cool, and now I'm just a mom. Here's a list of so many reasons why I am NO LONGER cool:
* I haven't had a hair cut in two years, so my hair style is a little outdated.
* I no longer wear make up. I find I have no reason for trend.
* I have mom jeans and I'm proud of them. The reason I like them is because they cover my mom belly.
* I am looking forward to buying a minivan.
* I have no clue as to where to even find the "in crown" these days.
Sorry my post was so horrible today, I was having serious writers block mixed with a really busy week on my family's venture. I hope that next week is better!
Don't forget to come back next week and link up your post with the sentence:
I am very passionate about...
Facebook ** Twitter ** Google+ ** Pinterest ** NetworkedBlogs