Thanks to those of you who commented about your favorite baseball team last week. I emailed you a code to get your FREE Ms. Middle ad space. If you did not receive it, please check your SPAM folder or use my "Contact" form and I'll send it again.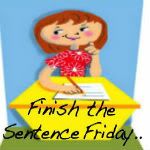 Do you remember the rules?
If I were stuck on an island, I would like to have:
*My family. Now, remember when I shared where I would like to live? Well, that's the island I am going to be stuck on. There will be plenty of room for everyone! My island house will also be right by the island that Jay-Z and Beyonce are going to buy. That way, they can host all of these fancy-schmancy celebrity parties (and pay for all of the trimmings) and invite their FAB-O neighbors to come, too. They would always invite my 2nd husband (because they know how much I love him) and my 3rd husband (because he'll up the hotness by 1,000points or more) and my wife (because there's gotta be some "diversity", I mean, how fun would a party be if only me, the Hubs, Jay-Z, Beyonce, Justin Timberlake, Matt Bomer and Stephanie March were there? Actually, I may just have died and gone to Heaven).

*Toothbrush and toothpaste. If I'm going to these fab-o parties I need minty-fresh breath.

*Lifetime supply of food. Since I'm going to be stuck there for awhile (possibly forever), I'm going to need food. All of my favorites. Tons of food that my kids will eat. The Hubs is good with anything, so it'll be our choice.

*A boat. Just because I'm stuck doesn't mean STRANDED. I'd like a boat to get to and fro. I may need to get the occasional birthday gift.

*Oh, maybe a magic lamp and genie...but that might be on the greedy side.
Now, link up your post about what you would have if stuck on an island and come back next week! Our sentence is:
This summer I plan to...
Also, please Tweet! Use #FTSF so I can find you easier and if you want me to comment at your place faster, mention me @dawns_disaster
Tweet #FTSF
Facebook ** Twitter ** Google+ ** Pinterest ** NetworkedBlogs