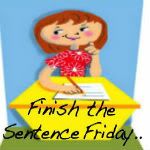 Do you remember the rules?
If I could hang out with any celebrity, it would be...
...JUSTIN TIMBERLAKE. DUH. Have you read my blog? The Hubs made fun of me because I wanted to put the Beanie Babies to bed early last Monday night so I could me in line RIGHT AWAY on Tuesday to get my copy of (the Target version) his newest album. Well, that didn't happen. Spring Break happened and we were up until about midnight. I still don't have my album. I think I'll have to rectify that tomorrow, don't you?
So, now that I've gotten to talk about my second husband, who do you want to hang out with?
...and don't forget to come back next week! Our sentenance is:
A typical day in my life looks like..
Facebook ** Twitter ** Google+ ** Pinterest ** NetworkedBlogs