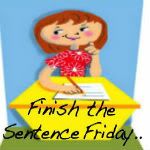 Who's ready for #FTSF this week??
I tried to cook...
...
omelettes
. Well, we were trying that the whole "breakfast for dinner" thing, of which I HATE because I don't really like any breakfast foods, except hash browns and american fries. Oh, and grits with cheese...well, really anything with cheese. This is why I thought omelettes would be alright to have (for me, the rest of the family likes them). We just got home from our office. I had gotten the girls all set and told the Hubs that he could go take a shower, I would get the dinner started. He could finish it up (the bacon, I can't cook that and have Z-E-R-O desire to learn how to). So, I got the eggs, milk, cheese, spinach, and tomatoes out of the
refrigerator
. I mixed the eggs with some milk and put some butter in the frying pan. The Hubs came out of the shower, into the kitchen to exclaim, "what are you doing?!?" "Um, making the omelettes" I said. "You need a bigger pan" he said and walked back into our room. Well, I had already poured some of the egg mixture into the small frying pan, so I needed to finish making just that one. It seemed like it was taking forever to cook. I assume that's because it did take forever to cook. When the Hubs came back out of our room, dressed and in his normal oh-so-cheery mood, said, "so, are you planning on cooking tonight, or giving us salmonella?" If looks could kill, the Hubs would be dead and the Beanie Babies and I would have salmonella. I didn't turn the burner on. Needless to say, he took over and make the omelettes correctly. He even added some bacon bits to the ones for him and the Beanies.
Now that you've had your laugh at my expense, link up your posts that start with "I tried to cook..."
And don't forget to come back next week, when our sentence is:
I did something really stupid once, I...



Facebook ** Twitter ** Google+ ** Pinterest ** NetworkedBlogs





This months Fab-o Sponsors: