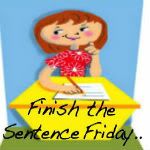 The most-memorable Valentine's Day I ever had was...when my husband asked me to marry him. Obviously, it was a memorable day, not only because he asked me, but HOW he asked me.
I woke up and went to take a shower. When I came out from the shower, there was a card on the top of the tv, propped up by a ring box. I knew he was asking me to marry him right then. I took the card and read it. I have no idea what it said. Something about Happy Valentine's Day, nothing about "Marry Me". Then, I waited for him to come into the room (he was in the kitchen). I sat on the bed. As soon as he was in the room, I opened the ring box. I was shocked. I was holding a ring box with baby carrots. Nope, not a two-karat diamond ring, but two orange baby carrots, from the refrigerator. I was NOT amused. I mean, I was only interested in the darned 2k solitaire I wanted!! So, my not-amused self threw the ring box and carrots at the man and started yelling at him, about how I did not think he was funny and if he was going to ask mt yo marry him, this was NOT they way to do it. He just looked at me and smiled. He took the ring box from behind him, opened it and said, "what's wrong with the ring I got for you?" He had pulled a switch-a-roo and had a beautiful ring in the box. I was mad, so I didn't go look right away (because I'm stubborn-or so I'm told). When I did see it, I said yes and we were married 5 months later.
Now, link up and have fun! Be sure to use the sentence prompt:
"The most-memorable Valentine's Day I ever had was..." this week.
Loading InLinkz ...
Next week is:
I get so frustrated when...
Facebook ** Twitter ** Google+ ** Pinterest ** NetworkedBlogs
This months Fab-o Sponsors:
Save 15% on your Blurb Photo Book purchase from 1/8 through 2/14 with code LOVEBOOKS